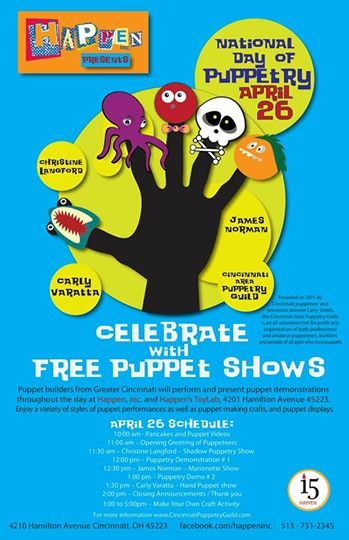 The Cincinnati Area Puppetry Guild welcomes everyone with an interest in puppetry, in all it's marvelous styles, to celebrate the art at our annual family friendly event.
2014 National Day of Puppetry
We are very happy to partner with our pals at Happen in Northside to bring to you a FREE FUN-tastic Day of Puppetry!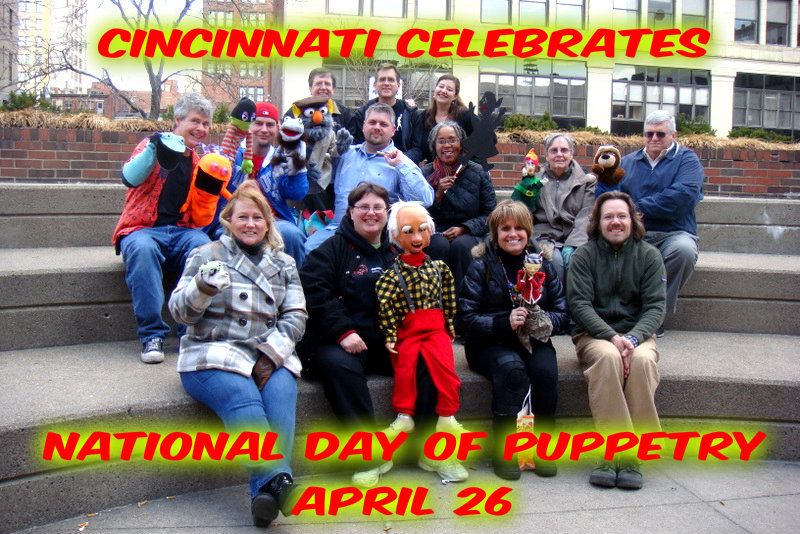 When:  Saturday April 26th – 10 am – 2 pm
Where:  Happen & Toylab – 4201 Hamilton Avenue in Northside
What:  Puppet shows!  Demonstrations! Puppets and more!
Performing puppeteers include Christine Langford (shadow puppetry), Carly Varatta (hand puppets), Ryan Moore (hand puppets).
Schedule:
10:00 am – Pancakes and Puppet Videos
11:00 am – Opening Greeting of Puppeteers
11:30 am – Christine Langford – Shadow Puppetry Show
12:00 pm – Puppetry Demonstration # 1
12:30 pm – Ryan Moore – Hand Puppet Show
1:00 pm – Puppetry Demo # 2
1:30 pm – Carly Varatta – Hand Puppet show
2:00 pm – Closing Announcements
3:00 to 5:00pm – Make Your Own Craft Activity
Thank you to all our performers, volunteers, friends, and our hosts

Here's a video from the 2013 Day of Puppetry provided by guild member Bill Yost: