The Early Years
Puppeteer Wayne Martin provides us with a wonderful look back at the founding of our guild.   Photographs provided courtesy of Wayne Martin.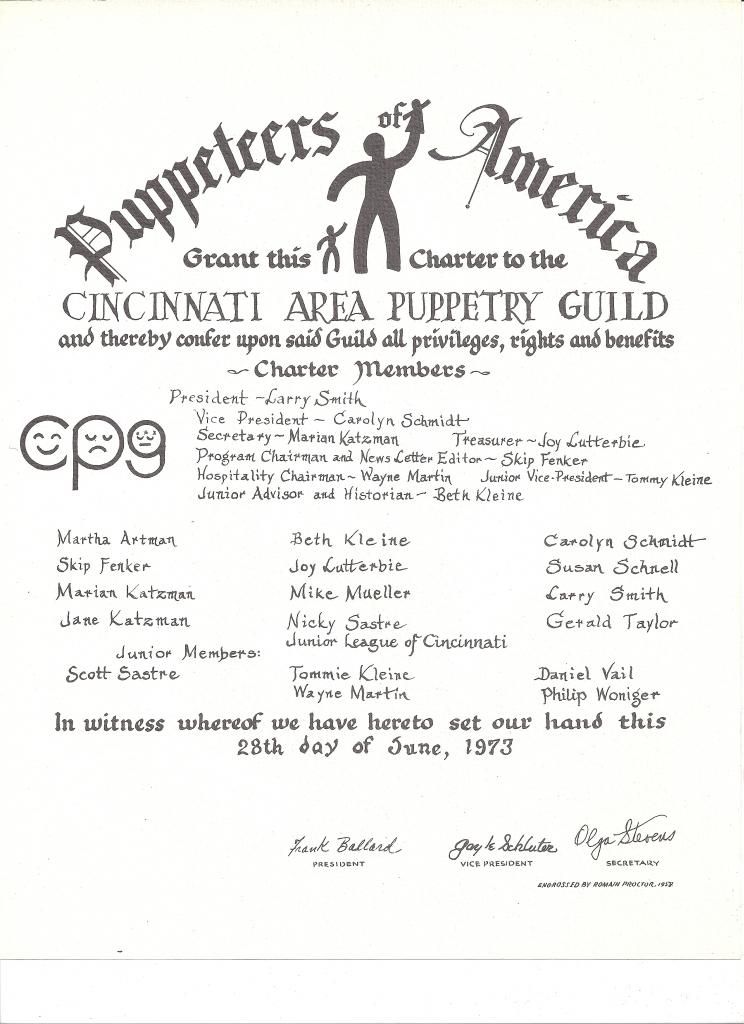 The Cincinnati Area Puppetry Guild (CAPG) was the idea of Larry Smith as a way of "giving back" to the city of Cincinnati. In the late sixties Larry was very involved with Puppeteers of America, serving on its Board and writing columns for Puppetry Journal when he first had the idea after watching other cities form local Guilds. It was Halloween night in 1970, at a party he was throwing at his apartment with partner Don Glanzer that he first told me about his plans. I was only twelve years old at the time but Larry told me that I and other local puppet enthusiasts were going to help.
It would take another year, but under Larry's leadership in affiliation with The Cincinnati Recreation Commission, our first meeting was held at the Recreation Commission's Fairview Arts Center building on West McMillan on Saturday, November 6, 1971.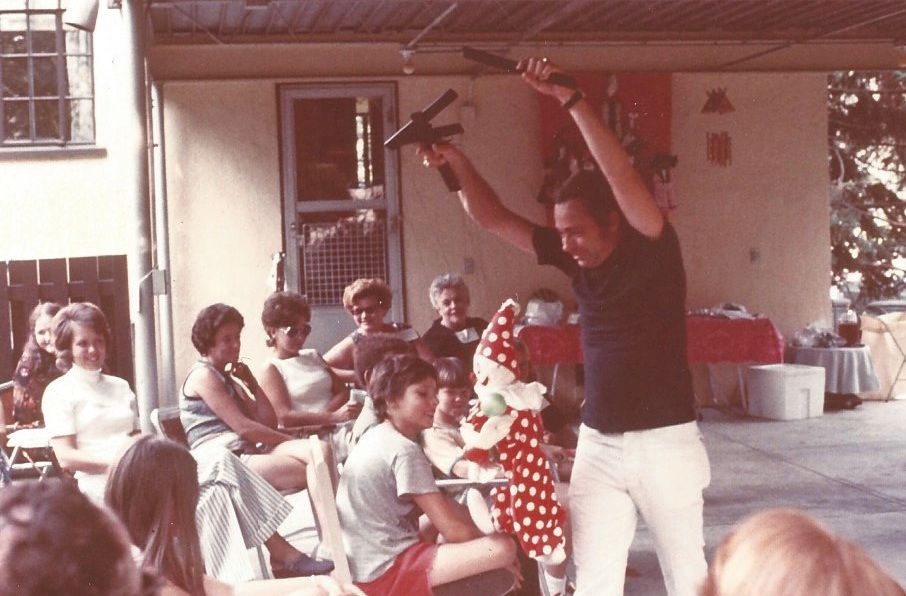 The meeting opened with Hank Stock, Supervisor of the Recreation Board, describing the purpose and uses of the building that would be our permanent meeting space and explaining the divisions of the Puppeteers of America. He then read the Constitution.  Larry had already introduced this Constitution to the PofA National Convention the previous summer as a first step in getting it endorsed, but it would be another two years before our Guild would be officially chartered. Hank and Larry then discussed how beneficial a Guild would be to professionals and to amateurs and a monthly meeting calendar was agreed upon for regular Guild gatherings over the next twelve months.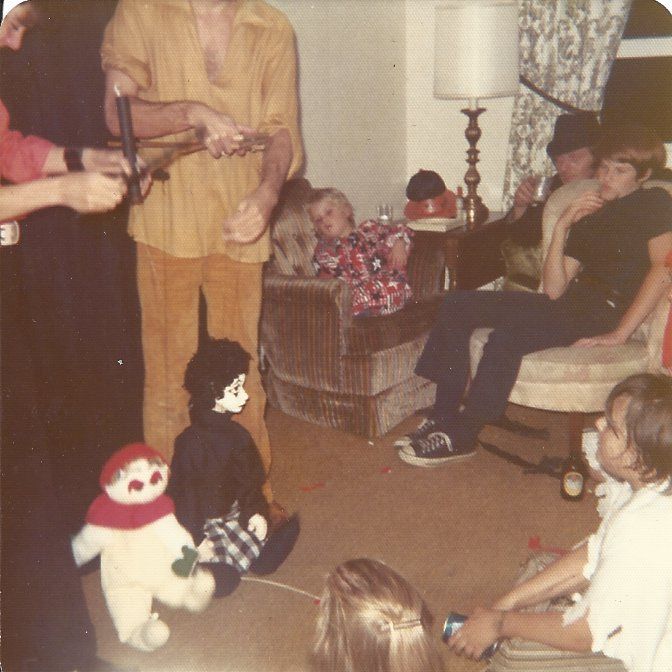 I don't recall the exact number of people who attended this first meeting, (20?) but among the group were Larry and myself (Wayne Martin Puppets), Skip Fenker (Skip Fenker Puppets), Florence Sterrett (Skip Fenker Puppets), Huston Henry, Joy Lutterbie (CayJo Puppets), Mariam Katzman, and Mike Mueller (Mike Mueller Puppets).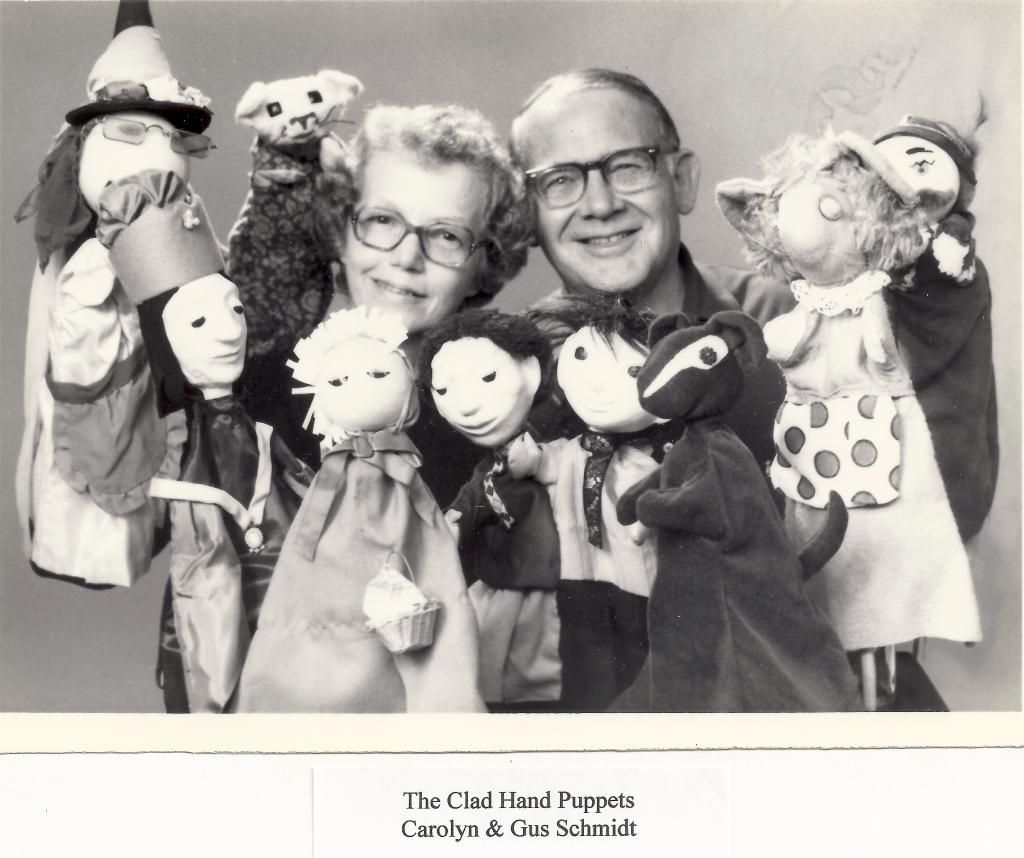 Others who would join in these first months and who played important rolls in our early success were; Nickey & Scott Sastre, Carol & Gus Schmidt, Don Glanzer, Sally Sellers Hayes, Amy & Jane Katzman, Beth & Tommy Kleine, Janet Lunsford, Jerry Taylor and Susan Schnell.
Our first elections were held at our January 1972 meeting with the following Puppet Guild Officers elected:
Larry Smith, President
Mariam Katzman, First Vice President
Wayne Martin, Vice President (Jr. Members)
Hank Stock, Vice President (Recreation Commission)
Florence Sterrett, Secretary-Treasurer
Skip Fenker, Editor of Puppet News
Carol Moore, Jr. Member Co-ordinator
Skip Fenker and Florence Sterrett would be unable to honor their full terms as both moved to Indianapolis, IN to work for Heiken Puppets a short time later. New officers appointed to finish their terms were Joy Lutterbie as Secretary-Treasurer and Carolyn Schmidt as newsletter editor.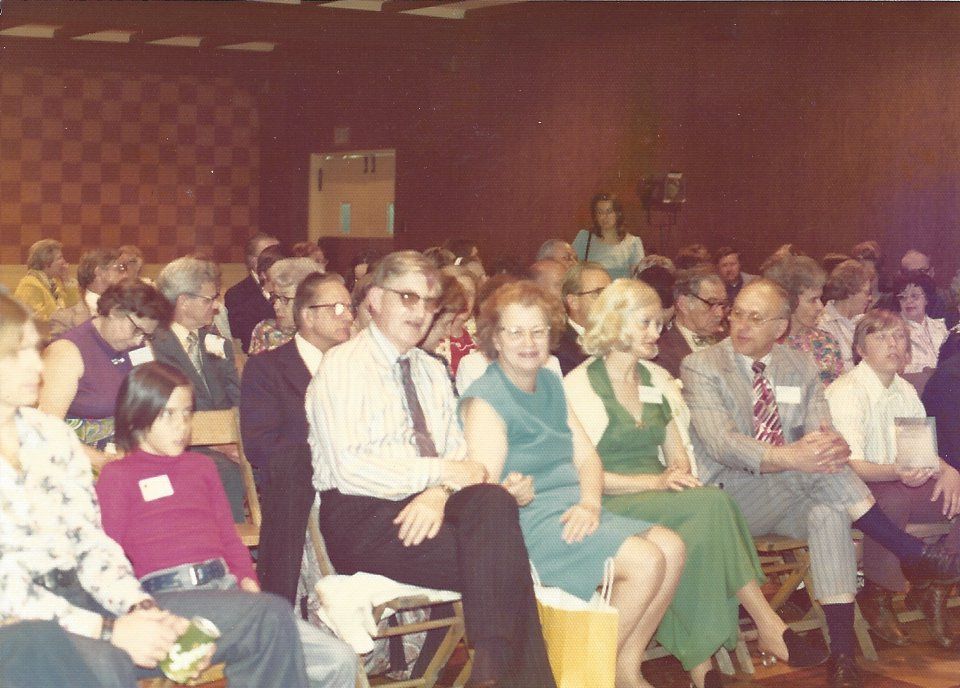 Skip did maintain his membership however, continuing an active role in the guild for a number of years to come. Under the name "Exeter Productions" Skip and I produced several large-scale one-off productions for the Guild, including "And Now We Are One" (Guilds one year anniversary in 1972), "That's Entertainment" (March 3, 1973, Fairview Arts Center/CAPG Open House), "The Song Is Over" (A musical productions for adults, April 1973), "And Now We Are Two" (Guild's second year anniversary/Halloween party), and "Born In A Trunk; A Tribute To Larry Smith" (A surprise tribute to Larry Smith that included a host of local & national celebrities, who joined us as part of the Guild's 1974 Great Lakes Regional Puppetry Festival)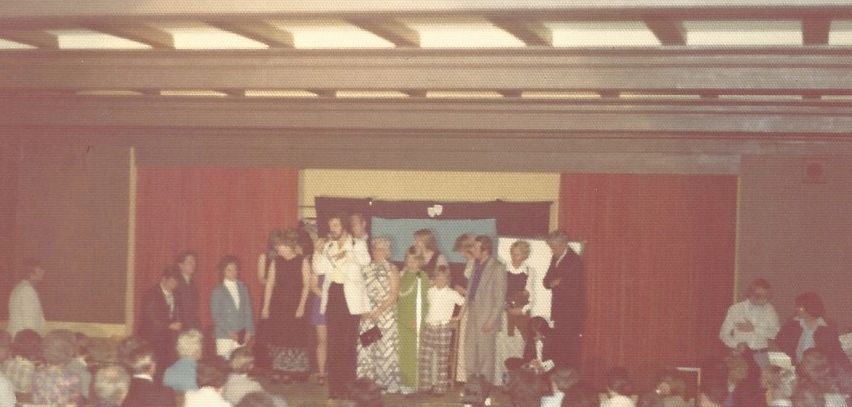 These were all one-time-only performances which allowed Skip and I to work outside our comfort zones, presenting differing styles of puppetry to Guild members, styles that we ourselves were not necessarily associated with.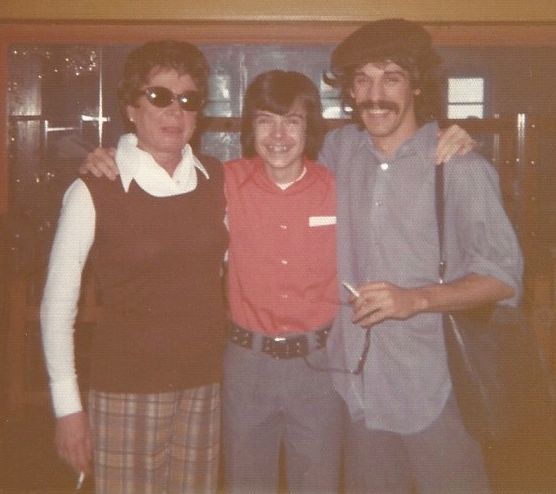 These early days were fun and our membership was quite large. It was not unusual for us to have 100 or more paid members each year. This was due in large part to Larry's number-one rated daily television show on WXIX TV-19 where he would announce our meetings on air each month. Of course many of these attendees/members were admirers coming to see and meet Larry, some having no real interest in puppetry as a hobby or career. While this was great for special events and fundraisers, it was not always a good thing for our regular monthly meetings when many would show up only to be disappointed that Larry did not bring along Hattie and Snarfie.
Case in point, Larry presented a wonderful piece of puppetry in its purist and simplest form as part of our above mentioned production "That's Entertainment." The crowd was so large that we couldn't accommodate them all, with many standing out on the street only able to hear and not see the show. Larry had created a very simple glove puppet duo and using building blocks spelt out messages of love and compassion for others, set to the music of "Living Together, Working Together," a hit record by The 5th Dimension. This was a piece that Larry worked very hard on and was rightfully proud, but the audience response was tepid at best and they voiced their disappointment at not seeing Hattie and Snarfie. We had been very clear in our advertising of the event that his TV characters would not be there, but much like today's classic rock acts, people only want "The Greatest Hits." Larry was disappointed and never did the number again even though others and I encouraged him to make it part of his "Contemporaries" presentations on TV.
Because of Larry's success and high profile though, it was a great time to be a puppeteer in the Cincinnati area.  Larry Smith, Wayne Martin, Skip Fenker, Joy Lutterbie and Mike Mueller were all working full-time professionals in town during this period and it was a lesson on how good puppetry benefits all.  All five of us were very good at what we did and because of Larry, every organization wanted puppets for their events. When Larry's WXIX tenure ended in the fall of 1974, overnight, all of our phones rang noticeably less. Without his daily television presence, puppetry was no longer in as much demand. Ms. Lutterbie and Mr. Mueller would subsequently go on to other careers; Mr. Fenker would continue touring with the Heiken's for a few years before returning to Cincinnati to work for me until going into directing theatre full-time.
Likewise, one bad puppet act can harm everyone too. There was a very high profile national marionette-touring act that came through during this same period that was of substandard quality, souring puppets for all. It would take another two years and the global success of "The Muppet Show" in 1976 for puppets to be in demand again, as good puppetry made everyone want to see more puppets!
The Guild's goal in these early years was to get chartered by the Puppeteers of America and then be able to host the Great Lakes Regional Puppetry Festival at Cincinnati's Sheraton Gibson Hotel, where in 1937 the Puppeteers of America held their third conference and drew up the original constitution for the PofA.
In June 1973 a number of the Guild attended the PofA National Festival at Michigan State University in East Lansing Michigan. I remember checking into the hotel with my folks and being greeted by Larry who said there was a problem and it looked like we would not be chartered for at least another year. I don't remember the specifics as to why, but needless to say, we were all pretty disappointed. A few nights later however, at a private party some of us were attending with Burr Tillstrom, Larry came running in with the great news, that obstacles had been worked out after all and we would be officially chartered by the Puppeteers of America the following afternoon.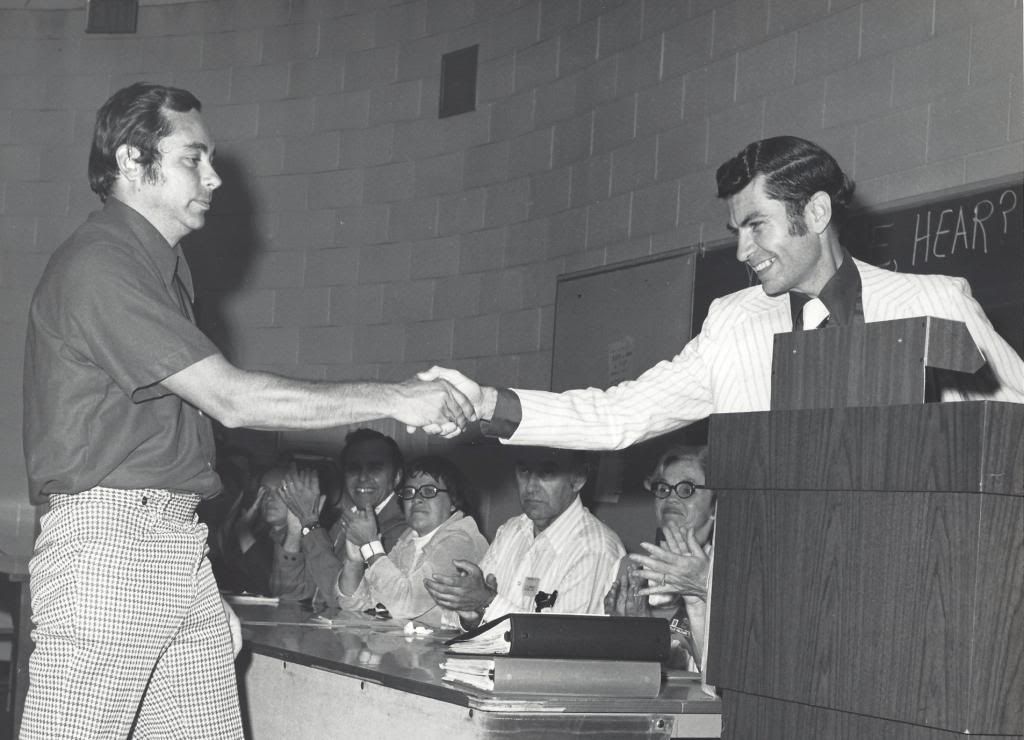 It was the consummation of many years' work and hoped-for acceptance when PofA President, Dr. Frank Ballard presented Larry with the charter on June 28, 1973.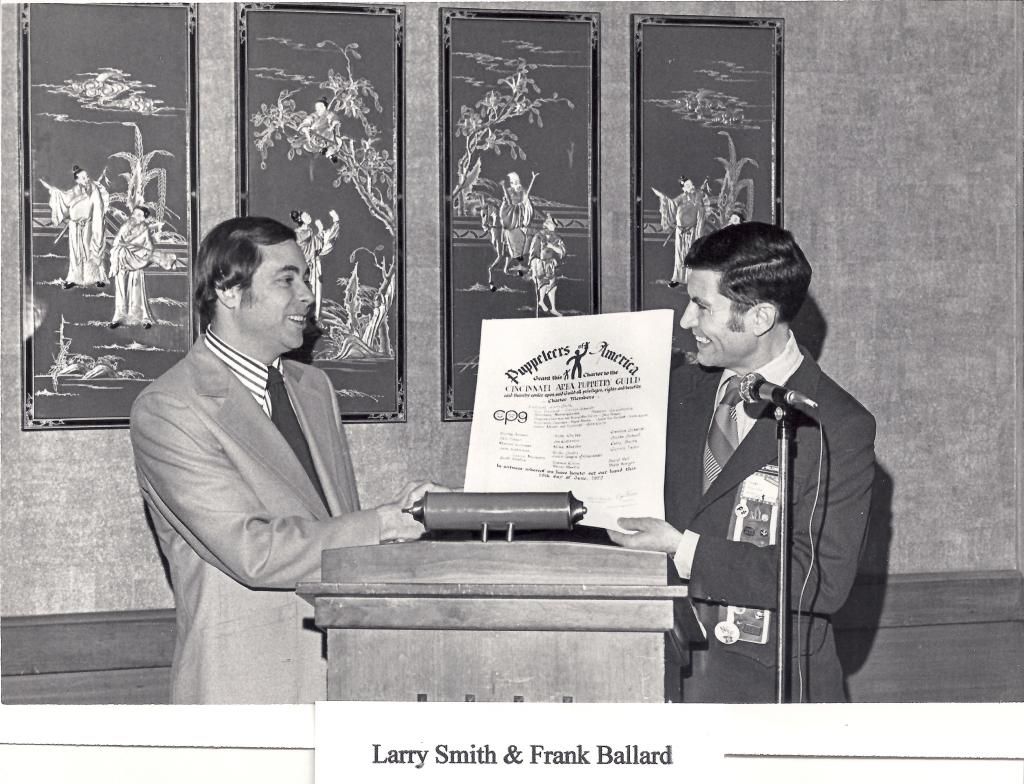 Immediately following the presentation a regional meeting was held and the Great Lakes Region, which included Ohio, Indiana, Illinois, Michigan and Wisconsin, elected Larry Smith as regional director and Cincinnati was selected as the location for the 1974 Great Lakes Regional Puppetry Festival.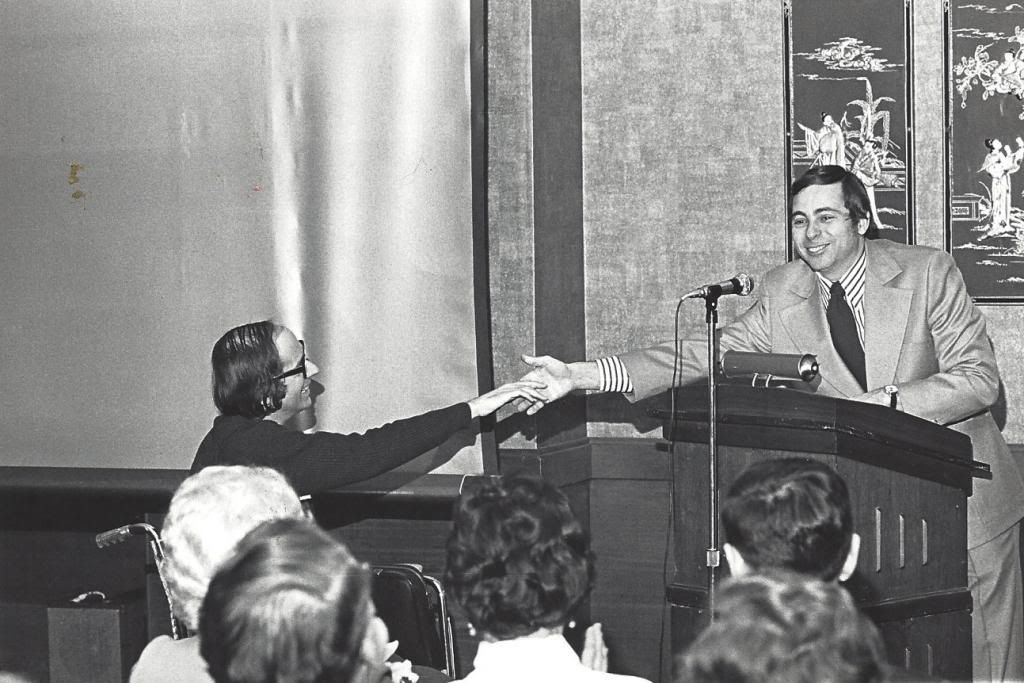 Much of it is a blur now, but I remember our Guild having a fantastic celebration that lasted into the wee hours of the night, where among others, Burr Tillstrom, Albrecht Roser, George Latshaw, Bil Baird and Jim and Jane Henson all stopped in to congratulate us. (You'll have to forgive my blatant name-dropping, but it was pretty damn impressive!)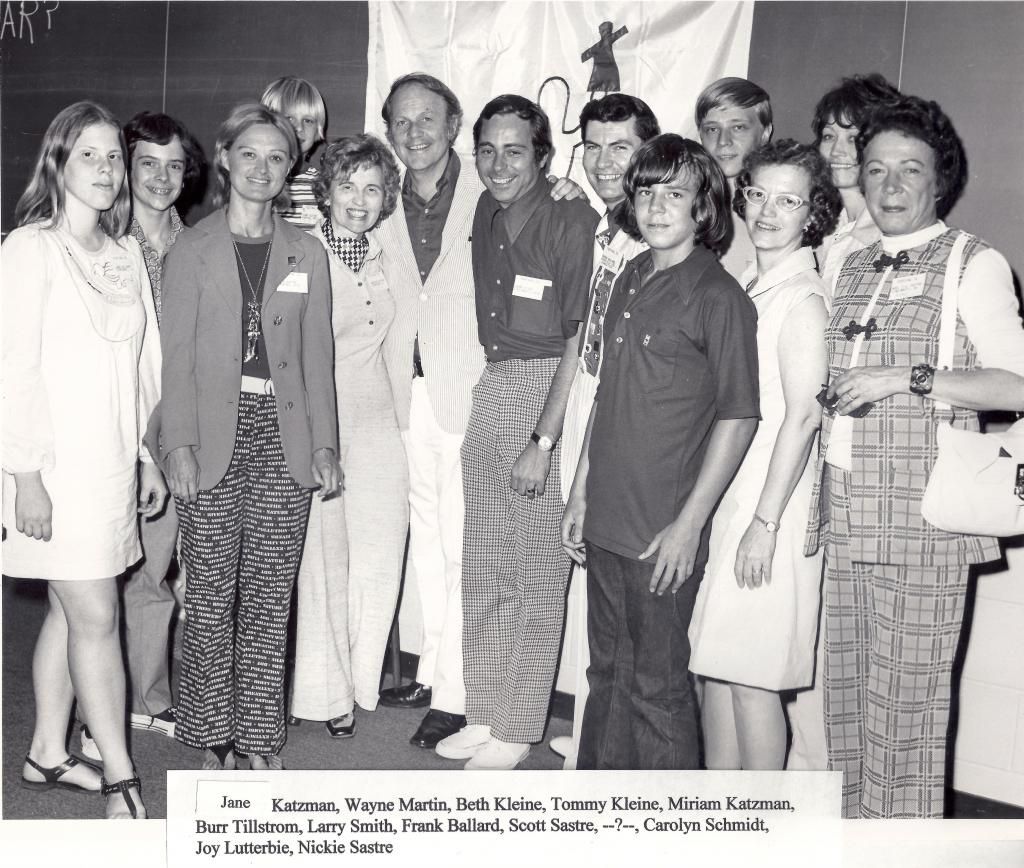 Now the real work began as we organized plans to host "Welcome Home" Great Lakes Regional Puppetry Festival '74! For ten months our Guild worked tirelessly, laying the groundwork to make this a very special Festival for both Cincinnati and for the Puppeteers of America. As all Festival performances were to be open to the public, ticket sales of which were essential to help cover expenses, Larry Smith, Skip Fenker and I all promoted the Festival by making appearances and giving performances around the city in the weeks leading up to the Festival. We also made the rounds of local talk shows, news and radio programs, culminating in a huge noontime audience on Fountain Square the Saturday prior to the start of the Festival, where we all three performed.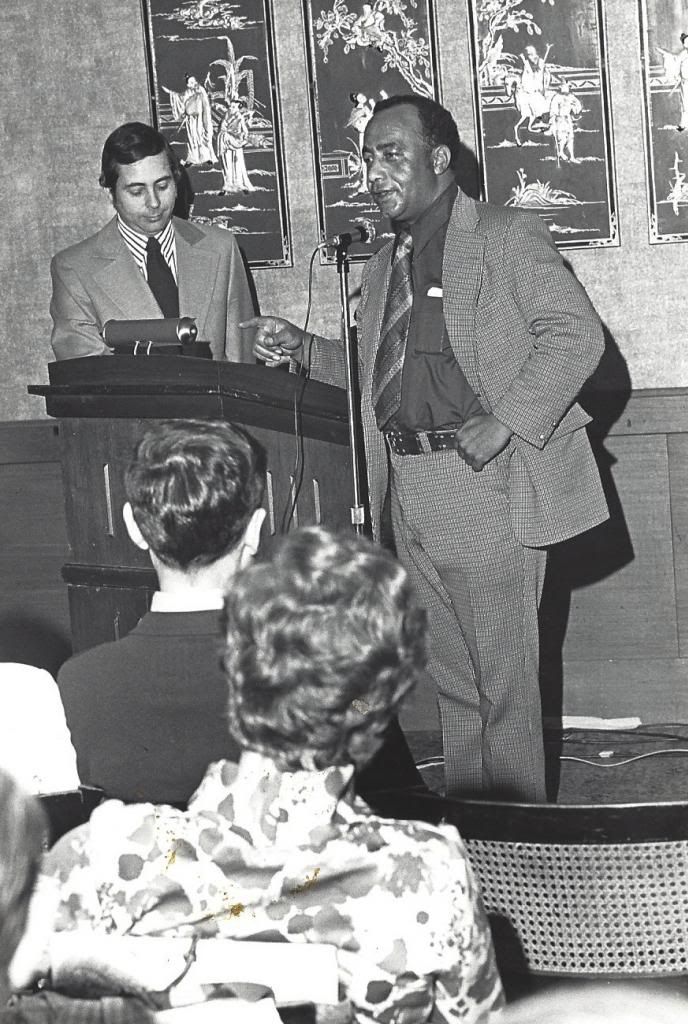 Theodore M. Berry, Mayor of the City of Cincinnati proclaimed the week of April 21– 28, 1974 as "Puppetry Week" with an official signing and photo op at City Hall as well as attending and speaking at our opening night ceremony. Local media were very supportive with their coverage both leading up to and following the event, including a wonderful Sunday Enquirer Magazine cover story, featuring Sally Seller Hayes "Punch" figure on its cover, with additional pictures of Guild members inside its pages.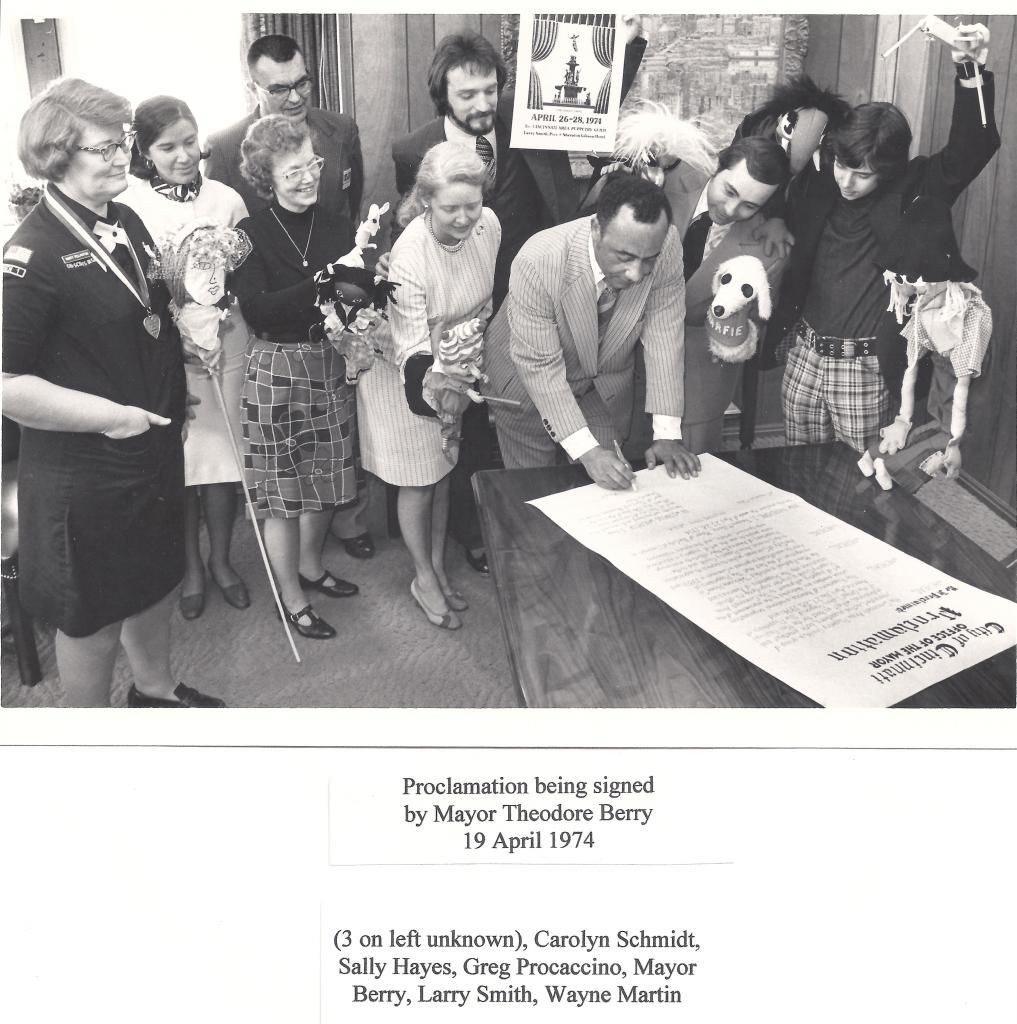 Festival performers included "The Donald Battjes Puppets," "Cajo Puppets," "The Fred Cowan Puppets," "Hand In Glove Puppet," "Poppinjay Puppets," "Larry Smith And His Puppets," "The Wayne Martin Puppets," " The Skip Fenker Puppets," "Heiken Puppets," "Mobley Marionettes," and "Tommy Kleine And His Puppets." In addition, Roger Dennis, Larry Smith, A. Michael Deller, Cincinnati Junior League, Dr. Frank Ballard, Hattie Parnell, Jim Rose, and Tony Proccacino conducted various workshops each morning.
Tony Proccacino M.C.'d the mainstay of all puppetry festivals, "Potpourri" on Saturday evening, with a surprise appearance by John Shirley who presented his world-renowned marionette variety act to the delight of all in attendance. (Shirley was on tour as ringmaster for Ringling Bros. and Barnum & Bailey Circus,beginning its Cincinnati run the following day) This was followed at 11pm by the surprise, unannounced, "Born In A Trunk: A Tribute To Larry Smith." With the assistance of Don Glanzer, Nicki Sastre and Skip Fenker, I had worked for five months on this production, as a thank you and a show of appreciation to Larry for all that he had done with forming the Guild and his overall contribution to the world of puppetry.
Special guests included Al & Wanda Lewis (The Uncle Al Show), Bob Shreve (Past Prime Playhouse), Mary Wood (TV Columnist, Cincinnati Post), Dick von Hoen (The Cool Ghoul), cast members from the University of Cincinnati's 1964 Musickaravan, along withLarry's mother, brother, nieces and nephews who had all journeyed from out of townto share their favorite stories about Larry. (All were snuck into the hotel throughout the day and housed in the hotels Presidential Suite until show time) Those unable to attend, Puppeteer Burr Tillstrom, Broadway Stars Carol Channing, Marsha Lewis and Lee Roy Reams, sent recordings that were played, as were two film and slide show compilations on continuous loops that were projected on screens throughout the 90-minute program.
The Festival was the final event to be held at the Sheraton Gibson Hotel, as it would be torn down soon after our event to make way for a new shopping mall and hotel complex. The only frustration I remember having with the hotel was with their elevators, as they ran incredibly slow. To give you and idea, one night Jay Marshall gallantly proposed marriage to children's librarian Janet Wolfer (Soon to become Lunsford) as a large group of us boarded an elevator with her. As the doors would open to let another guest off on their floor there would be Jay, still on his knees waiting for Janet's reply. He did this floor after floor. The elevators were so slow, he would wait for the door to close on one floor and then run down the stairs to the next level and be down on his knees when the doors would open on that floor. I have no idea how this ended as I got off to go to my room after four!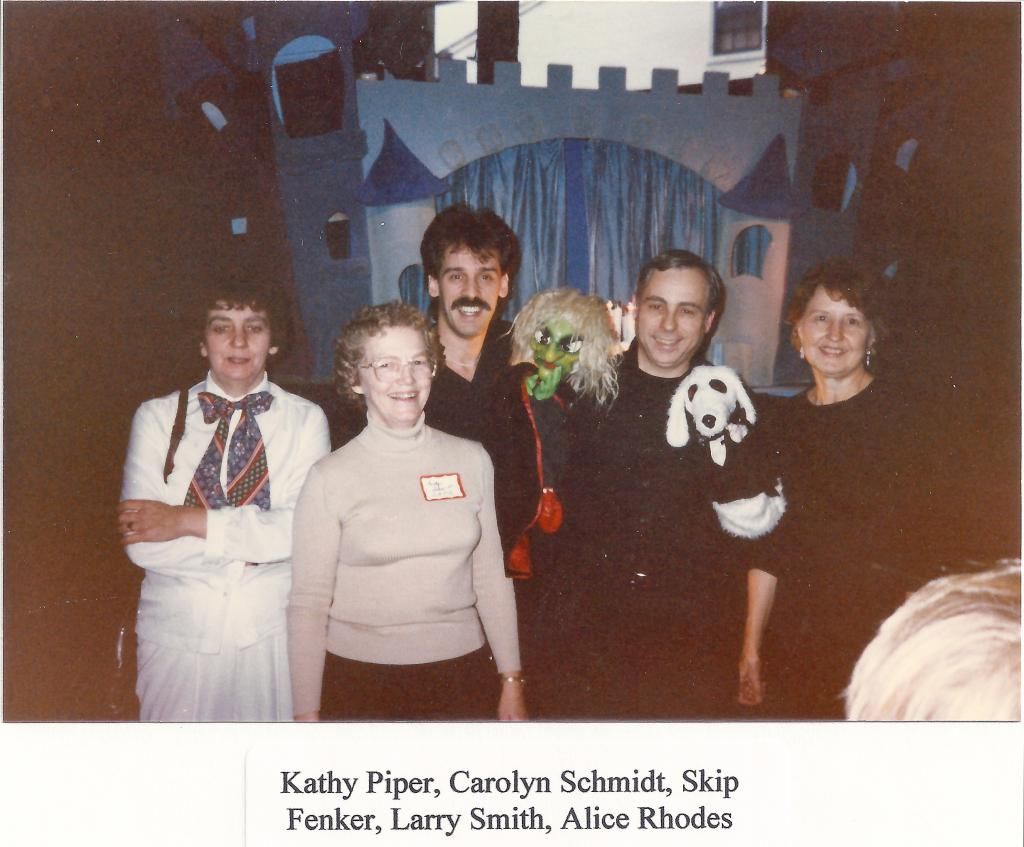 Nicki Sastre had rented the Presidential Suite for the week, so all after hour parties and activities took place there. Suffice it to say, Nicki was a great lady and hostess and knew how to throw a party. One of the many crazy things that happened here took place on the first night. The suite had a number of bedrooms. Guests used one of these to place their jackets, purses and other personal items while socializing. About 2am one of the guests went to retrieve their items from the room and found everything on the floor with someone sleeping in the bed. We all went to look and sure enough, there was a stranger who had taken over the room. Here we are in a hotel soon to be demolished, a hotel that is only 50 percent occupied at best and they've accidently rented out one of Nicki's Presidential Suites bedrooms! A person, who without questioning just tosses all these personal items onto the floor, unpacks their own bags and goes to sleep with a wild party, taking place on the other side of the wall. This person remained asleep as we stood there staring and talking aloud about the situation. We all laughed, took our belongings off the floor and let him sleep. Nicki discovered the person gone at 6:30am. We never knew who he was, but we all had a good laugh and dined out on that story for years after.
If there is such a thing as a "perfect" event, this 1974 Festival was it. Everything ran on time and as planned without any disasters and we turned a sizable profit! Seasoned festival goer's all agreed that this was one of the PofA's very best and the accolades continued our way even later that summer at the PofA National Festival in New Orleans that Larry, Mike Mueller and I attended.
It was a great conclusion to the first chapter of the Cincinnati Area Puppetry Guild.